Can you tell us a bit more about yourself and your journey through shipping?
"I hale from Cardiff originally - birthplace and headquarters of Idwal. Both my parents were teachers, which along with coal, used to be one of Wales biggest shipping exports. My mother came from a colonial family and spent her formative years in Malaya (as Singapore and Malaysia were then known) so the seeds of my future life in this part of the world were sewn into me at a very early age.
My break came through my Uncle, who diverted me from teaching into a career in shipbroking and I completed a traineeship with H Clarkson and Company followed by 9 months in Clarkson's sister office in Paris. Eventually, the S&P department asked me to join them which in those days was full of shipbroking 'legends' such as John O' Keeffee, Terry Rowley, Huw McCoy, Alan Marsh, and James Freeland. Truly an amazing place to learn the trade.
Simpson Spence Young approached me to join them in 76, and I stayed with them until 1982, where after I came out to Singapore with Wallem Shipping. In 86 I opened up a one-man broking shop, and in 1991 led the setup of SSY's Singapore office. I stayed with SSY all the way through until 2005, becoming a partner. Thereafter I joined a small boutique shop called Island Shipbrokers, which provided me with possibly the happiest time in my shipbroking career, and then in 2014, joined the Baltic Exchange.
That brings me to now. In 2019 I decided to try retirement but after a spell of extensive travelling with my wife, it became apparent that I was suffering huge withdrawal symptoms from shipping. In August 2019, HFW offered me a consultancy role with their maritime team and in late 2020, I joined the Idwal team to assist their clients in Singapore. It feels good to be back".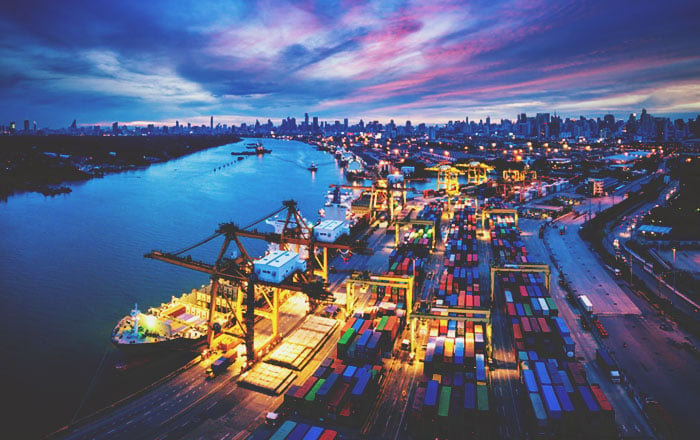 The Port of Singapore
How will you be assisting Idwal in Singapore?
"I have been in Singapore for 39 years and have seen the industry grow from an important port, into the busiest shipping HUB in Asia. There frankly are not too many people here that I don't know here in shipping and I am confident that the unique methodology Idwal employs in their ship inspectorate speaks for itself, and I will be able to spread the word among my contacts, and show the value of the Idwal Grade, which is becoming such an important tool for Shipowners, Managers, and Financiers alike".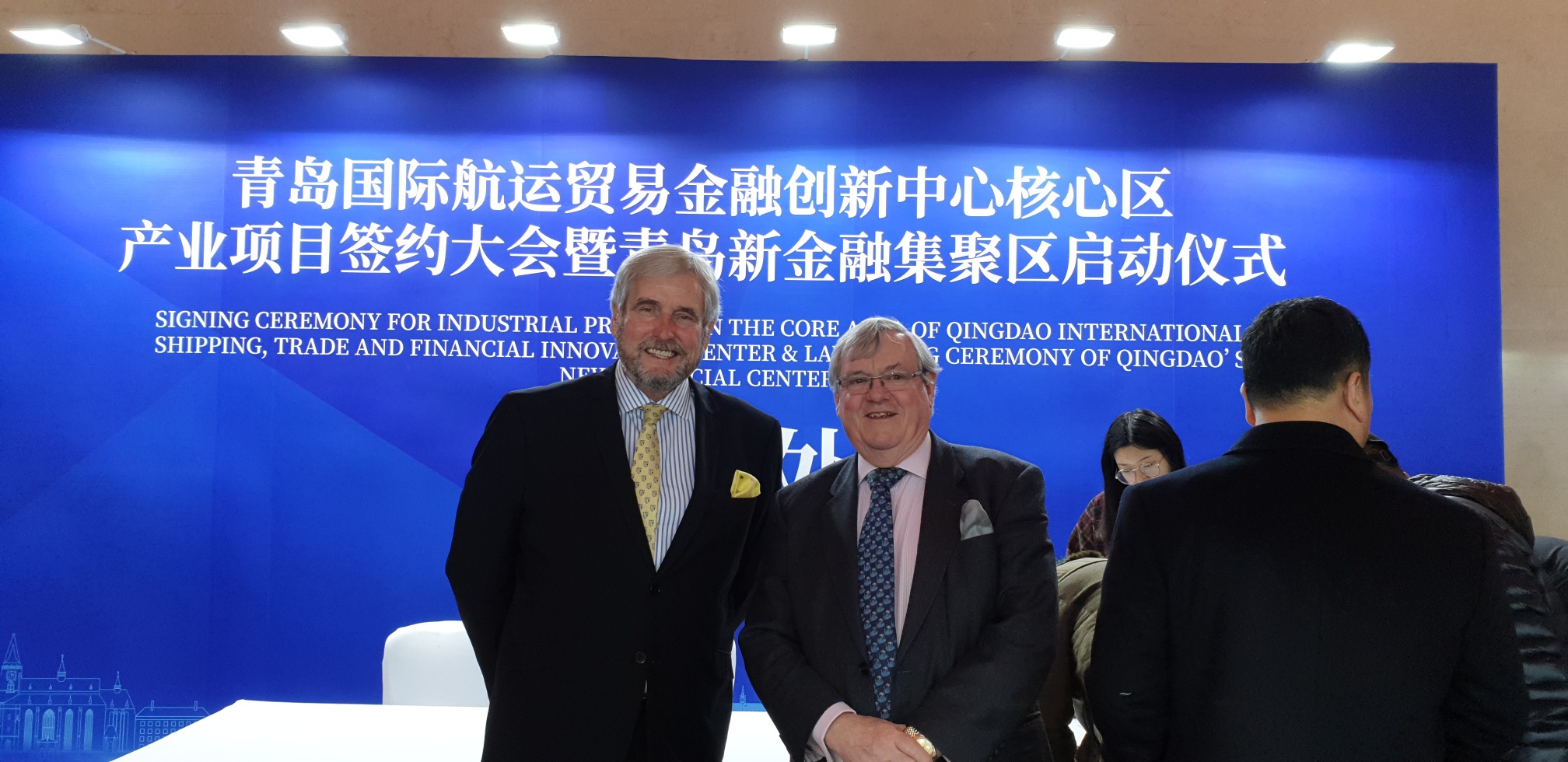 Chris Jones alongside Doug Barrow MBE at the launch of the Qingdao International Shipping, Trade, and Financial Innovation Centre
How did the Singaporean shipping industry react during the early days of the pandemic?
"Singapore was very pre-emptive over COVID-19, even as far back as the end of January 2019 - well before a pandemic was even declared. This could possibly be due to our experience with the SARS outbreak in 2003. After the first case was discovered on 23rd Jan 2020, temperature checks were incepted at all entry points. Cruise ships were halted from calling at Singapore by March and in early April, a circuit breaker lockdown was imposed - which was extended until June 1st. Singapore was one of the first countries to incept a plan to carry out crew changes within the port. Most shipping offices here still give the option to their staff to either work from home or work on a 'Team A' and 'Team B' basis. Singapore's early action is paying dividends where we are now in phase 3 of opening up, in spite of our island being one of the most densely populated in the world".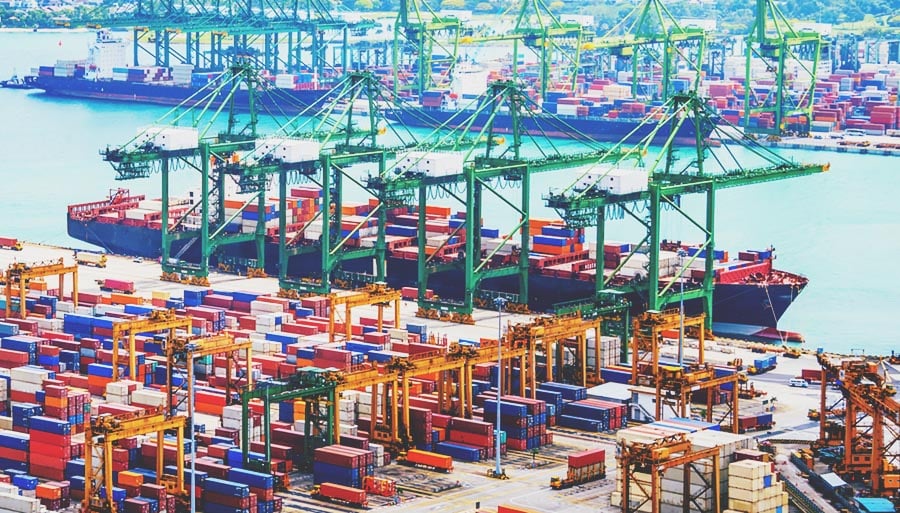 The Port of Singapore
How can Idwal's range of inspection and maritime services assist the Singaporean shipping industry?
"Apart from the ship owning community, which is substantial and buoyed by many foreign companies who can act independently of Head Office, there is a plethora of ship finance entities, ship managers, charterers, and brokers who will, I am sure, be only too keen to learn of our unique inspection services".
With the sector hoping for a better 2021, how do you think the coming months look for Singapore's shipping?
"The shipping scene in Singapore has been just as tough as the rest of the world, although the uptick in container rates has helped confidence hereabouts.
Port calls in 2020 were commensurate with Pre COVID times and our bunkering activity was only marginally down in 2019, which are all positives.
Whether the Joe Biden presidency may make a difference to Sino-American relations, remains to be seen but any thawing would surely be good for shipping in Asia.
Singapore remains the fulcrum of shipping in Asia. It is a hugely efficient and welcoming place to do business and I am confident that Idwal will continue to grow and flourish in the 'red dot'".
---
If you'd like to discuss your shipping operations in Singapore and how Idwal can assist, you can contact Chris here. Alternatively, you can contact Idwal directly by emailing enquiries@idwalmarine.com or by contacting one of our regional offices.