The team was out in force taking part in the Cardiff River Group's Treasure your Rivers beach clean on Wednesday, September 22nd. With Idwal Headquarters being so close to many beautiful beaches and coastal areas, we're in the perfect position to help the local community, charities,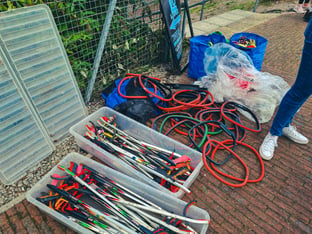 and life below water initiatives - a vital part of achieving our sustainability strategy in line with the United Nation's Sustainable Development Goals. The Cardiff River's Group arrange events throughout Cardiff and South Wales tackling litter and waste within our waters including beach cleans, river cleans, amenity improvements, and habitat management. They also arrange events to clear blockages to improve water flow and clear paths next to watercourses. This event was also in partnership with Keep Wales Tidy - a charity working across Wales to protect our environment for now and for the future.
The team attended a beach locally known as the Dr Who beach, made famous by being featured in multiple scenes of the popular British TV show of the same name. The team met with all the other volunteers for a rundown of the event then headed down to the shore to start litter picking. Seeing the amount of waste and what type of rubbish had gathered on the shoreline was hugely eye-opening for the whole team.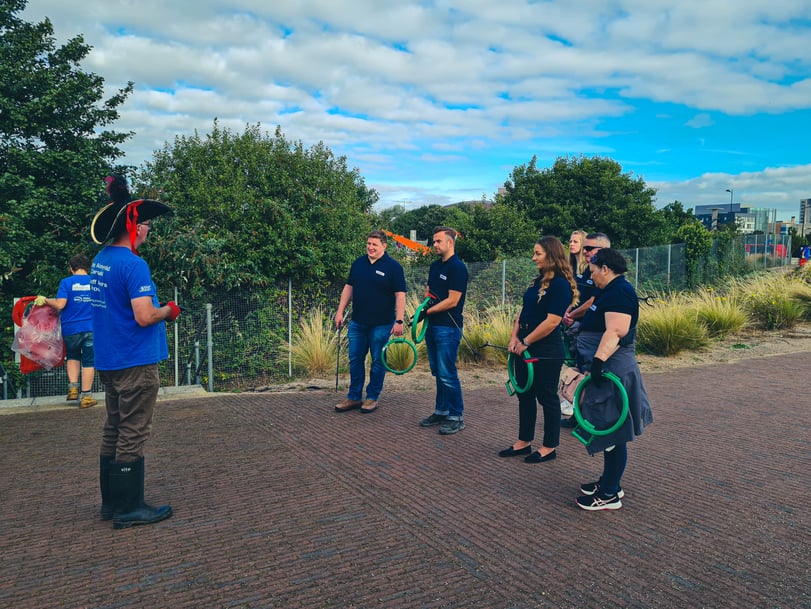 The pre-clean up briefing!
The volunteers from the River Group even said that this was not the worst that they've seen in the area. After spending a couple of hours on the shore litter picking the team hopped onto the bay itself armed with longer pickers and nets on a boat made from 95% recycled materials (supplied by the River Group team) to pull rubbish from the bay. The team was able to pick up rubbish from all corners of the bay where the worst build-ups of rubbish had occurred.
After a lovely tour around the bay and collecting everything from traffic cones to bakery carts and toys, the team came back to shore. After spending some time talking to members of both the Cardiff River Group and Keep Wales Tidy, we quickly realised the scope of the issue facing them with events running like this every week and the new problems facing them every day. The River's Trust (a national UK charity) reports that none of the rivers in England and Wales are in overall good health and that there has been a decline of 83% of all freshwater species since 1970, with this picture being mirrored across our oceans. The Cardiff River Group had the equipment to tackle any obstacle including a remote-control boat (designed to look like a pirate ship) used for remote litter picking with arms and net, which the whole Idwal team had a lot of fun using.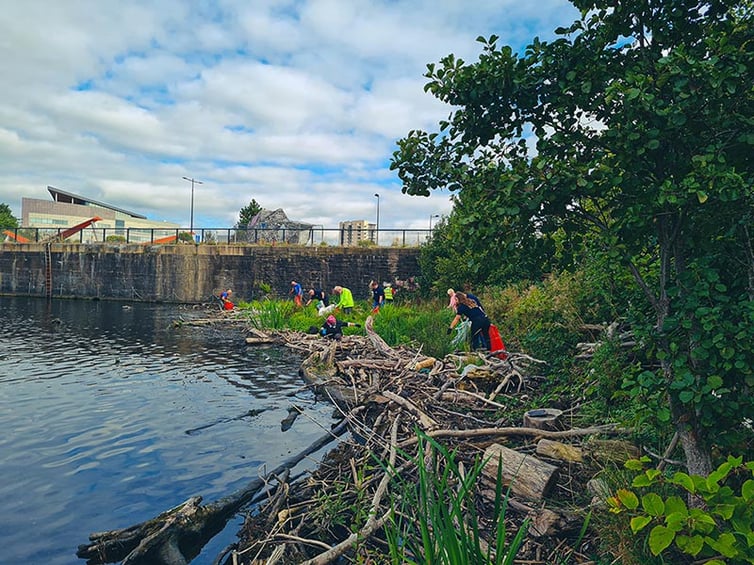 The Idwal Team and Volunteer's from Cardiff River's Group
After a massively successful event thanks to the Cardiff River's Group with the help of the Idwal team and all the other fantastic volunteers, the initiative managed to fill two floating skips for recycling and a Cardiff Council van full of waste from Cardiff bay in only a few hours which shows the importance of these sort of events and the impact only a few hours of volunteering can have on our waters for both us and the local wildlife.
Idwal will continue to partner with local charities in the coming months and years to ensure that we play our part in the global sustainability drive.
We would like to say a massive thank you to our Life Below Water Champions Mark Roberts, Tammy Davies, and Ewa Weber for arranging and sourcing equipment for this event. Let's take a look at what our Idwal's Life Below Water Champion who organised the event for the team Mark Roberts and Tammy Davies had to say after the event:
Mark Roberts - Head of IT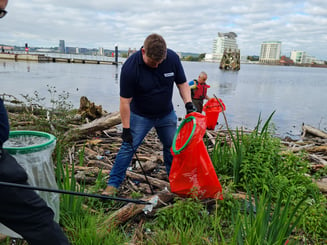 'What a great first event! We made some good headway and realised quite how much more we can do to ensure our waterways are as healthy as possible. A big thank you to all the volunteers who donated their time to support. I hope you all enjoyed yo
urselves! It was great to see so many friendly faces and bond as a team after a long absence from in-person working. We hope to run future events and I would whole-heart
edly recommend you get involved through your local charities and beach clean groups. It is great fun, a good way to give back to our local community, as well as doing our bit for the planet!'
Tammy Davies
'The beach clean was an amazing experience, as someone who has never joined in this sort of activity. The Cardiff Rivers Group and Keep Wales Tidy groups were a great bunch to show us the ropes. The cleaning itself was a real eye-opener to see what floats down the Taff and washes up on the shores of the bay. We found some commercial waste, a giant traffic cone, toys and balls and a remarkable about of furniture pieces. The most common rubbish, though, was single-use plastics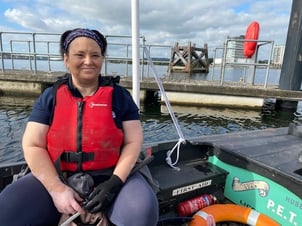 such as bottle labels, sweets and, chocolate wrappers, snack packaging in general and of course general recyclables such as drinks cans and bottles. Although a lot of issues for life below water stem from larger pollution causes, we saw very few signs of this. All of the rubbish was consumer products that came down the river and were washing up in the Cardiff Bay area. The experience was humbling and it's time to stop turning a blind eye to rubbish, as we so easily do when walking down the street, or along the shore. As individuals, we need to step up, being extra careful to recycle and reuse when we can and dispose of our refuse responsibility when we cannot.'
Sustainability at Idwal
Idwal is committed to a sustainable future and has adopted a number of initiatives at both a corporate and operational level relating to Environmental, Social, and Governance ("ESG") matters, aligning ourselves with a number of UN sustainable development goals in order to contribute positively towards a sustainable future for our industry and the wider world.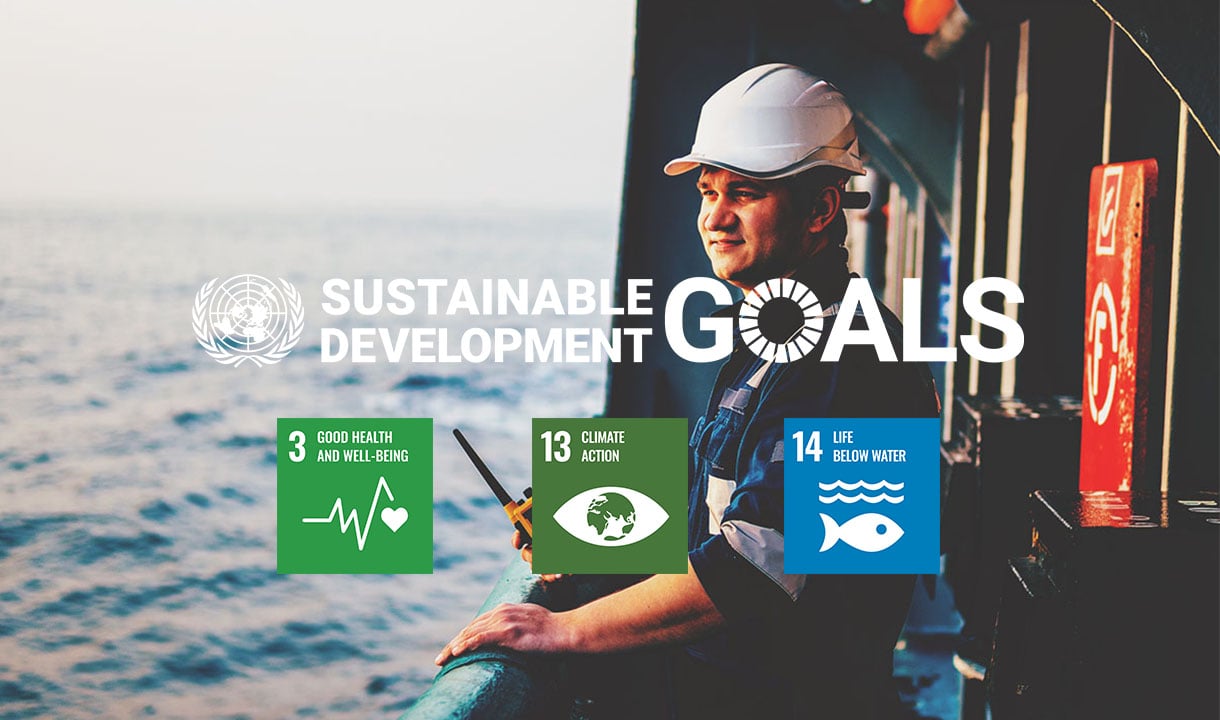 Our aim is to support the decarbonisation goals of our customers and the wider shipping community by providing the world's largest and most connected network of marine professionals and focusing on supporting the needs of IMO 2030 and the growing demand for decarbonisation throughout our industry.
Operating sustainably and with a conscience, Idwal has all but eliminated air travel from our global operations and strives to become the industry's first net carbon zero survey business by 2022, whilst embarking upon a number of initiatives designed to improve welfare, diversity and ethical business practices throughout everything that we do.
For further reading on our sustainably pledge view here.