The global vessel inspection technology business introduces a new module to its existing Idwal platform, to help automate the online distribution of pre-sale inspection reports and enhance the premium service that it already provides as market leader in this sector.
Idwal has launched its new module for pre-sale inspection reports, which streamlines their online distribution to facilitate the sale and purchase (S&P) of vessels. The module enables sellers to authorise potential buyers' access to the relevant Idwal report directly and see who is engaging with the asset information, while potential buyers with authorised access to the report have full assurance of authenticity and the right of reliance on the report's validity and accuracy. This evolution of Idwal's current service automates some of the manual tasks for all involved and marks another step towards a more efficient S&P inspection process.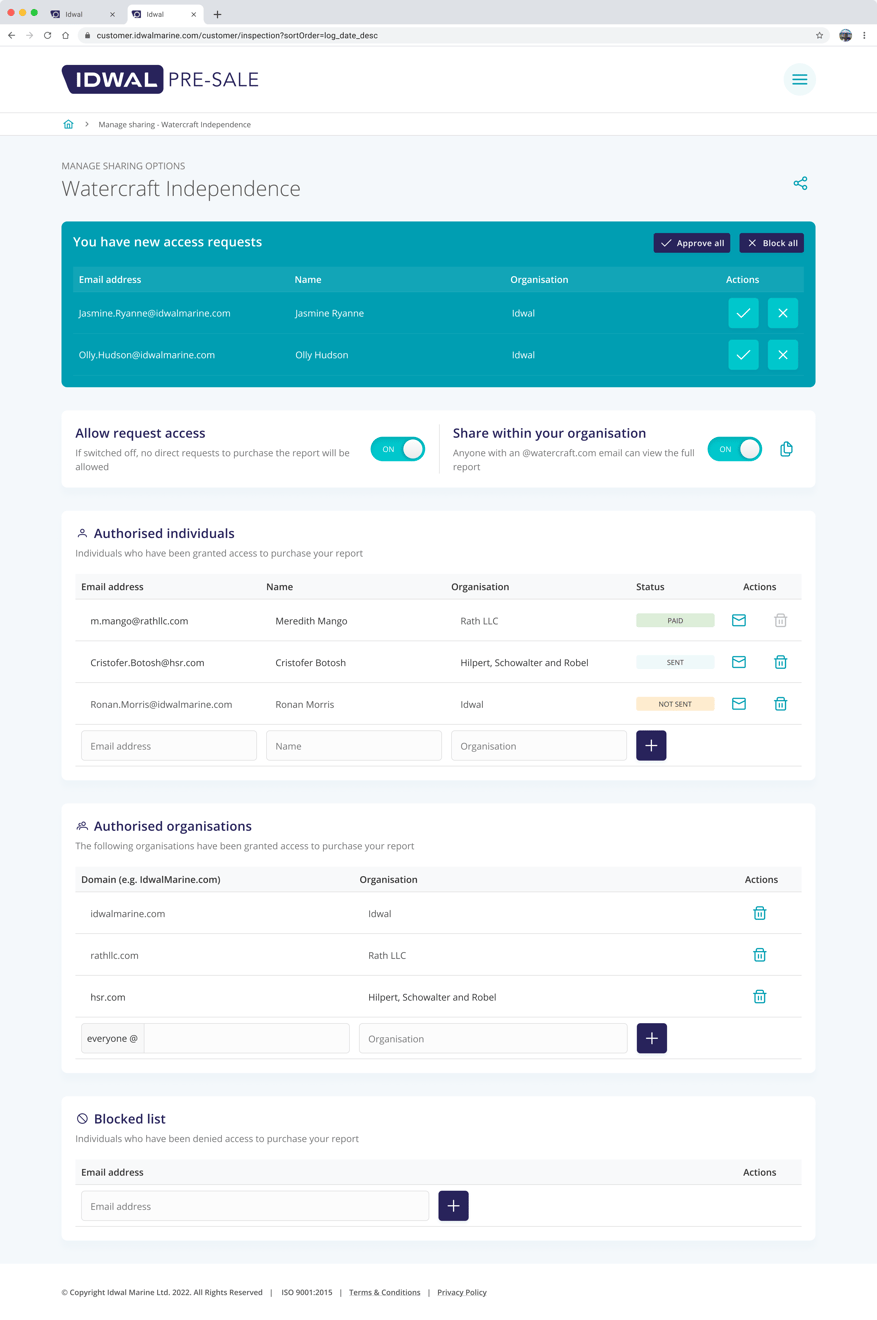 Idwal's new pre-sale module allows for users to authorise access to their reports, directly from the platform
Idwal has been at the vanguard of changing the way S&P vessel inspections are handled since they introduced a pre-sale inspection service 3 years ago. Beforehand, shipowners selling a vessel would put it on the market and wait for ship inspections by multiple prospective buyers. As a new solution in 2020, Idwal built a scheme in which sellers pay for Idwal surveyors to produce an inspection report on the vessel that Idwal then offers for sale to prospective buyers on the seller's behalf. The new module maintains the same principles but automates some of the procedures to enhance the user experience and create a smoother process.
With approximately 40% professional market share of global S&P ship inspections, the company has built a reputation as a trusted market leader in the field of independent inspections, and has an ongoing programme of enhancements to bring to this sector. Idwal Chief Commercial Officer, George Haysom said: "Idwal is very proud to have become widely accepted as an industry hallmark for high quality and accurate S&P reports and key to this is our continued focus on the integrity of our inspections and the subsequent reports.

"With the ever growing adoption of Idwal reports and the Idwal Grade® as an industry-recognised standard, we have seen an increase in fraudulent Idwal reports, which we knew we needed to eliminate. Our new module will make it even smoother for buyers to ensure that they are accessing authentic reports directly from us, removing any risk of tampering by third parties. For sellers, it will offer a more streamlined experience with the ability to grant access to reports and to understand how buyers are engaging with those reports."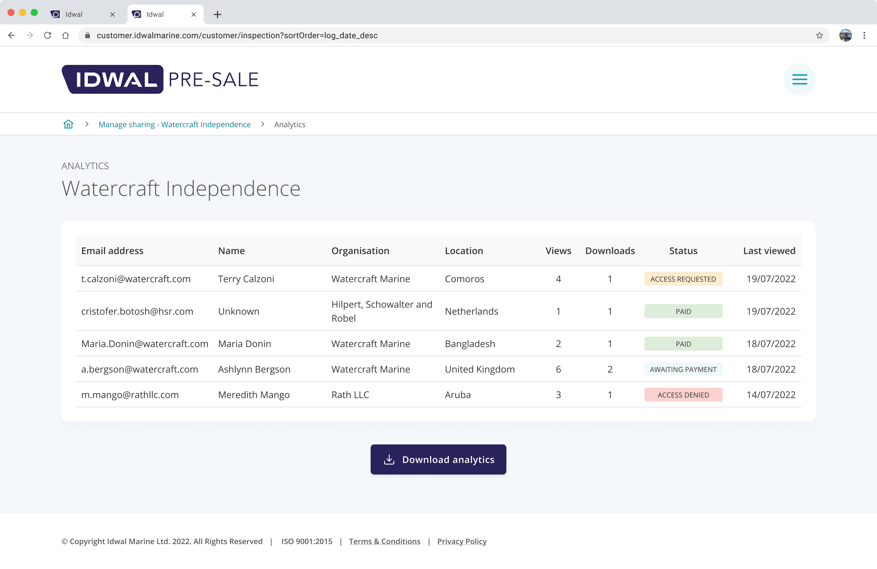 The pre-sale module enables sellers to see exactly who is interacting with their report
Idwal is committed to evolving their services for customers and remain in constant dialogue with them to stay fully informed about their evolving requirements and ensure they are working on the enhancements to services that will deliver the best outcomes for them. For more information on the enhanced service from Idwal, please see Idwal's dedicated S&P web pages.